Jurgen Klopp has officially been named manager of Liverpool F.C. Although practically the whole internet predicted it beforehand, Liverpool made it official today.
Unsurprisingly, Klopp's already shaking things up.
New Staff
One repercussion of Klopp's appointment is the firing of Sean O'Driscoll and Gary McAllister, Liverpool's former assistant manager and first team coach had just joined the club in July.
Their positions will be taken up by Peter Krawietz and Zeljko Buvac at Anfield.
Krawietz, 43, and Buvac, 54 – nicknamed "the brain" – previously worked alongside Klopp at both Mainz and Borussia Dortmund. Krawietz is set up to be Klopp's assistant coach and video analyst, while Buvac will act as assistant manager.
The move shows how supportive Liverpool is of Klopp with the speed at which they recruited his two former assistants and hired them.
Liverpool Chairman Tom Werner had this to say:
"He possesses all the qualities we are looking for in a manager – he is a strong, inspirational leader, who has a clear philosophy of high energy, attacking football. Critically, he is also a winner and someone who can connect with and enthuse our supporters."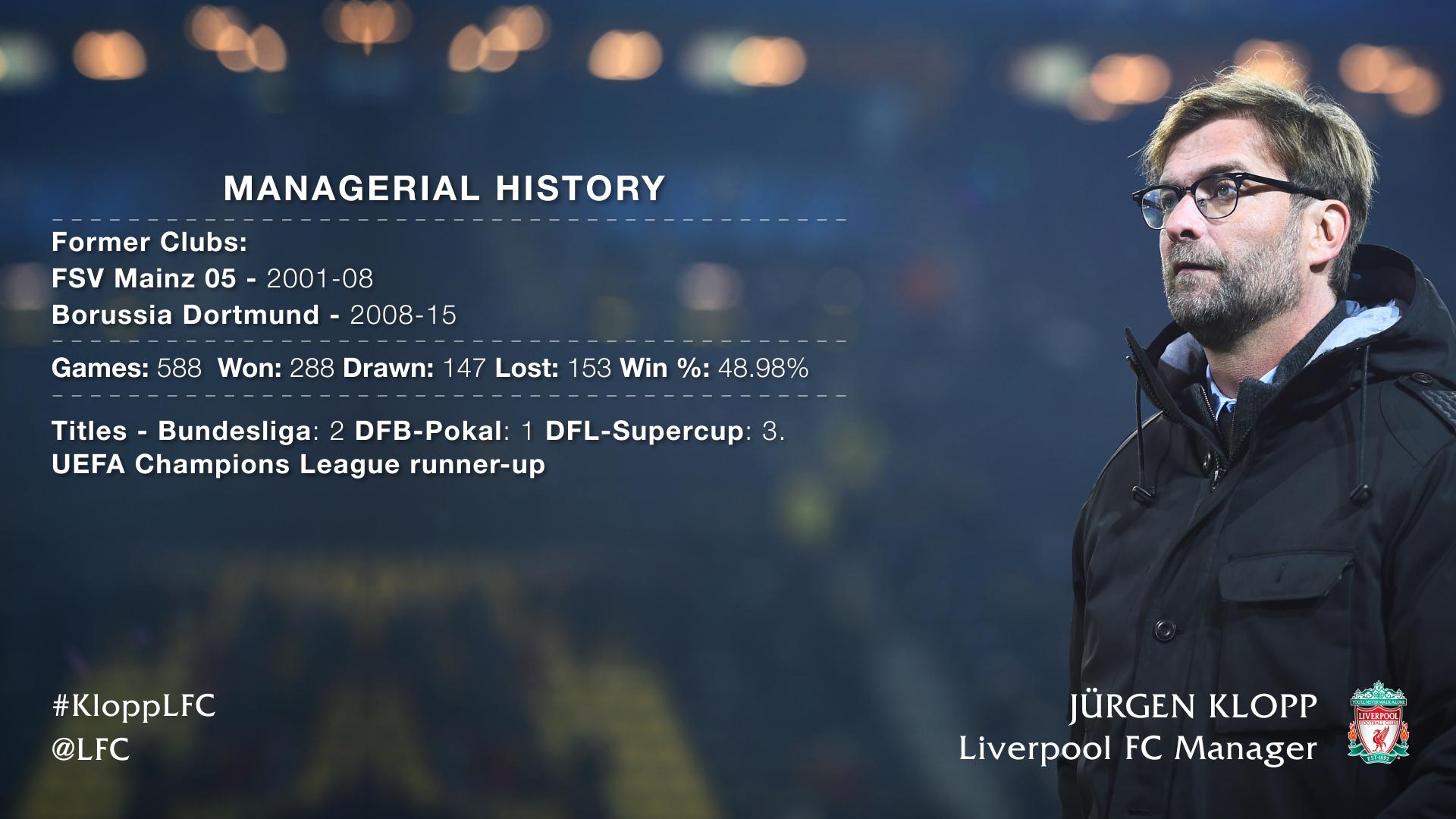 "It is our job now to support Jürgen every step of the way and help him achieve his full potential at this great football club."
His First Press Conference:
Klopp's first chance to talk with the British media was everything you'd expect. Even with thinly veiled jabs and the Premier Leagues biggest mouth, Jose Mourinho.
"I don't want to describe myself. I am a totally normal guy. I am the normal one maybe? I had a great opportunity to take Dortmund for seven years. And now I am here. I want to enjoy my work."
Klopp actually cut a year long sabbatical short to jump on the opportunity to coach Liverpool FC. And his phrasing of the normal one is a reference to Mourniho's self-title, "The Special One".
"I have said this phrase 'full-throttle' football. It will be this."
"I don't compare myself with the genius managers in the history of football. It is cool that you are all looking forward to the next few years with me but it is not my job to do this. None of the great managers said in their first press conference that they wanted to be a legend when I leave here. We have to work in the present."
In less than twenty-fours hours Klopp already has Liverpool headed in new and exciting directions.
Can't wait to see what is sure to be one of the Premier League's most entertaining managers has up his sleeve in the upcoming weeks.